The A-CAPP Center is a university center located within the College of Social Science at Michigan State University. As an self-sustaining Center, our operations are dependent on partnerships with brand owners, government agencies, academics, and other stakeholders.
COLLABORATION
We have partnered with over 500 stakeholder groups since 2009 and our partners recognize our gifters as helping the greater good in the fight against counterfeits and protecting brands.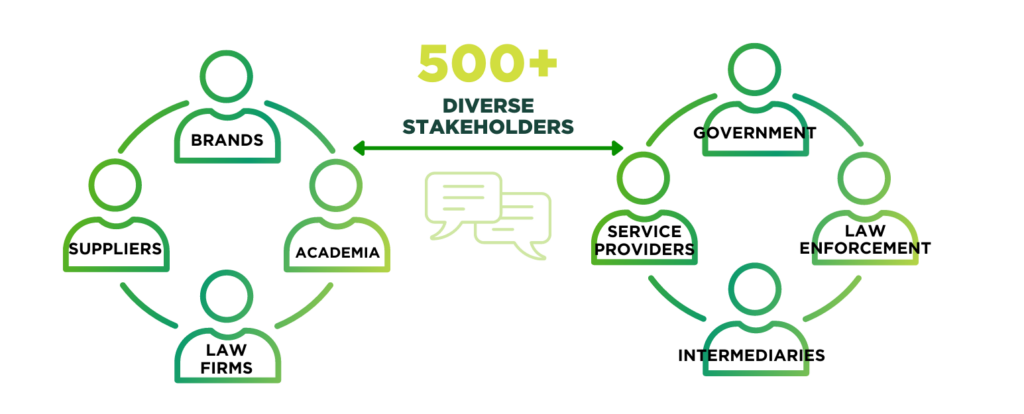 GLOBAL REACH AND ENGAGEMENT
Our engagement and reach is global and has expanded significantly in the last two years to include almost every area across the globe.

Tax-deductible support can be made through sponsorships and gifts to our various programs and initiatives. If you are interested in providing support to the Center in other ways not detailed below, please contact our director, Kari Kammel at kkammel@msu.edu
Questions on payment options other than credit card links below, please contact Sara Heeg at heegsar1@msu.edu
WAYS TO GIVE – STUDENT PROGRAM
Sponsorship levels can be applied to the A-CAPP Center general student program, DEI for Brand Protection Scholarship program, or Matthew R. Maher Scholarship program.
WAYS TO GIVE – EVENT SPONSORSHIPS
Paid Advertisement
*Advertisement size is 394px x 750px. Please contact Sara Heeg at heegsar1@msu.edu for advertisment purchase options other than credit card.
WAYS TO GIVE – GENERAL GIFTS