RESEARCH OVERVIEW
The A-CAPP Center is a non-profit, interdisciplinary research-focused center housed at Michigan State University. The Center began as the Anti-Counterfeiting and Product Protection Program, which was under the direction of the School of Criminal Justice at MSU. It later gained center status and moved to an independent center within MSU's College of Social Science. The prominence of the Center and its nature as an interdisciplinary endeavor led to its current designation as a university-level center. From this position, A-CAPP is able to leverage the collective strengths of a top-tier global university that is recognized around the globe as a leader in a number of fields relevant to the study of product counterfeiting and brand protection.
In addition to its research mission, the Center maintains a robust education and outreach agenda. Activities in these areas have made the Center a leading expert on product counterfeiting and brand protection issues, and the Center maintains partnerships with global corporations, government agencies, and key law enforcement partners. Additionally, the Center has begun a concerted effort to engage e-commerce platforms, law firms and other service providers as a way to develop a holistic approach to anti-counterfeiting research, education and outreach activities.
This research agenda is intended to guide the A-CAPP Center's research and scholarly activities for the next three years (2021 to 2023) and is designed to ensure that we remain the preeminent academic institution in this field.
Research Mission
To be the global leader in the production and dissemination of impactful research and scholarship in the areas of brand protection, product counterfeiting and trade in illicit goods.
Research Goals (2021-2023)
Publish an average of two peer-reviewed academic publications per core faculty each year
Publish an A-CAPP Backgrounder or A-CAPP Paper each quarter
Maintain at least three active projects that involve collaborations with Affiliated Faculty
Have at least one graduate student (masters or doctoral) partnering with the Center on a substantial research project or a thesis/dissertation each year
Initiate one project focusing on the use/application of computing technology
Develop and launch a survey of consumer perceptions of and experiences with counterfeit products
THEMATIC RESEARCH AREAS
The A-CAPP Center has identified five focal areas that represent the primary grand challenges our 2021-2023 research agenda will address. These areas touch upon topics that are relevant to the social and behavioral sciences, technological sciences, marketing and advertising, and organizational behavior/ management among others. Furthermore, these thematic areas address issues that are of prime importance to our partners and other stakeholders.
Organizational Challenges: Exploring the internal and external challenges brand owners face while developing, implementing and revising anti-counterfeiting and brand protection strategies. Focus on researching issues related to working with internal stakeholders, partnering with intermediaries and service providers, and collaborating with other brands and law enforcement partners.
The Role of Consumers: Investigating consumer behavior and decision-making, including exploring the phenomenon of consumer complicity, as well as the influence of social media and social media influencers. Studying the effectiveness of anti-counterfeiting messaging aimed at consumers.
Law Enforcement System Responses: Examining local, national and international law enforcement efforts to detect, investigate and prosecute counterfeiting activity. Identifying best practices used by law enforcement agencies to mitigate counterfeiting and illicit trade schemes.
Legal, Regulatory and Policy Responses: Probing the effectiveness and impact of legislative and regulatory responses to counterfeiting and illicit trade, including the cross-national influence of judicial proceedings.
Counterfeiters and Illicit Trade Patterns: Investigating networks of illicit actors who deal in counterfeit and illicit goods and operate transnational criminal schemes to identify patterns that can be used to disrupt their criminal operations.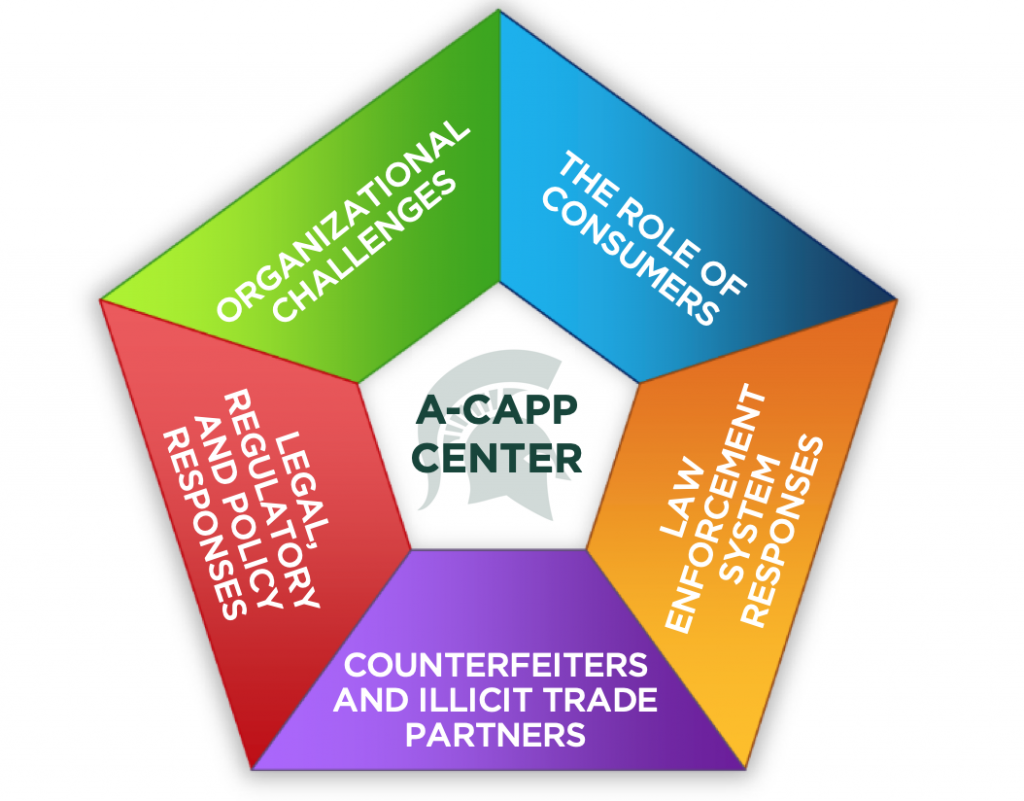 Principle Research Initiatives:
Organizational Challenges:
Understanding the nature, extent and value of O2O (Online-2-Offline) activities
Structure and development of corporate brand protection teams
The Role of Consumers:
Surveys of Consumer Perceptions and Experiences
Understanding the impacts of social media on consumers and counterfeiting opportunity structures
Law Enforcement System Responses:
Understanding Illicit Trade Networks to Identify Emerging Opportunities for Enforcement
Legal, Regulatory and Policy Responses:
Emerging anti-counterfeiting / brand protection legislation
Counterfeiters and Illicit Trade Patterns:
The Convergence of Counterfeiting and Broader Criminal Activity
Assessing drop shipping and affiliate marketing counterfeiting structures
The role of Free Trade Zones in counterfeit and illicit trade trafficking
OPPORTUNITIES FOR GROWTH
As the A-CAPP Center looks to expand its research efforts throughout the field of anti-counterfeiting and brand protection, three areas offer substantial growth potential and may lead to unique academic and practical outcomes. Importantly, each of these projects also affords the A-CAPP Center opportunities to expand its network of Affiliated Faculty and to develop deeper engagements with our brand owner, law enforcement and service provider partners.
While we may engage in research activities related to each of these three areas during the current research agenda timeframe, we view these endeavors as the initial steps of projects that are likely to form the core of our future research agendas.
Forensic Analyses Of Seized Counterfeit Pharmaceutical And Health/Beauty Products
In addition to violating intellectual property rights laws, many counterfeit products contain substandard or harmful ingredients, additives or components. Understanding the composition and makeup of seized counterfeit goods can help us to tell a more informed story about the harms of counterfeits, as well as reinforce the importance of active anti-counterfeiting activities.
Through a collaborative partnership with an MSU faculty member, the A-CAPP Center is establishing the foundations of a research partnership that will focus on the forensic evaluation of seized counterfeit goods. This partnership began with the forensic evaluation of counterfeit MSU-branded products obtained from a prominent e-commerce website. We currently have seized counterfeit items from one of our local law enforcement partners that are waiting to be analyzed, and we are developing partnerships with two other local and state law enforcement entities to analyze the composition of seized pharmaceuticals, medical devices, and health and beauty products.
This initiative will allow us to provide a valuable service to our partners, to deepen relationships with MSU faculty/academic units, as well as the potential to develop revenue-generating activities.
Technological Advances In Packaging Security
The School of Packaging and Department of Supply Chain Management are both global leaders in their fields, producing highly sought after graduates. The A-CAPP Center aims to partner with faculty and graduate students in each of these academic units in the development of collaborative research projects that investigate emerging packaging security technologies and their uses within the supply chain.
The increasing rise of e-commerce and the decline of physical retailers will likely bring new challenges to traditional supply chain models, as well as traditional approaches to anti-counterfeiting technologies. Working with the preeminent academic minds in these fields will allow the A-CAPP Center to assist in bringing cutting edge strategies and solutions to our partners in the brand protection community.
The Use Of AI/Ml In Online And Automated Anti-Counterfeiting Strategies
The growth of the Internet and increases in access to computers have forever changed the nature and structure of counterfeiting schemes. At the same time, increased access to the Internet offers ability to gather and store large amounts of online data, which creates ideal opportunities to study the shifting counterfeiting landscape in real time.
Through collaborations with researchers at MSU and several of our service provider partners, the A-CAPP Center aims to develop research projects that apply machine learning (ML) and artificial intelligence (AI) to the investigation of online counterfeiting schemes. The goal of this initiative would be the development and continual refinement of AI/ML driven search tools that can be incorporated into anti-counterfeiting strategies.