This page is intended to be a resource to the MSU community to locate licensed retailers of MSU merchandise. You can find legitimate retailers, both brick and mortar and online, as well as ecommerce site listings and crafters.
This page is possible with support from Matthew R. Maher Scholars and scholarship sponsors.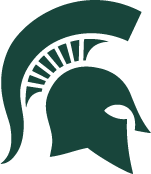 Become
a MSU Licensed Retailer
Any person, business or organization with an interest in marketing products bearing the trademarks of Michigan State University need to first obtain a license.
Report
a Suspect Website
Help protect MSU's brand. Report a listing you suspect may be an unlicensed MSU product(s). We will review it and take action.
Learn
how to Shop Safe Online
View some best practices to shop safely online and avoid counterfeit purchases.
Licensed MSU Merchandise Retailers