Teeing off on Counterfeits
Tyler Armstrong, Lucy Ching and Tori Curtis, 2021
---
Performance Drivers
With the Masters Tournament freshly behind us and warmer weather on the horizon, golfers all around the country will be getting ready for the upcoming season. Many golfers will be looking for new or replacement clubs before and during the season, but with COVID-19 precautions still in mind, in-person shopping is still not ideal for everyone. Likely, a considerable number of golfers will purchase or consider purchasing a new club online, where they are much more likely to purchase counterfeit products than in-person.
Counterfeit golf clubs, in many cases, are made from poor-quality materials and result in poor product performance. For example, PGA Golf Professional, Rick Shiels, tested out the TaylorMade M5 driver in comparison with a counterfeit driver.[1] The tests revealed a decrease in performance from the authentic driver to the counterfeit, with Shiels' swing falling by 50 yards and the club's head separating from its shaft. In addition to counterfeit clubs providing worse performance compared to an authentic club, counterfeit clubs themselves have a much shorter life span, often have an odd or warped appearance, and possess safety risks from poor materials and manufacturing situations.
Seizures/Counterfeit Activity
In August of 2020, over 100 Shanghai officers and several other local officers from other provinces conducted a historic raid in China. The U.S. Golf Manufacturers Anti-Counterfeiting Working Group (The Golf Group), which is a group of the leading golf equipment companies dedicated to stopping counterfeit activity in the industry, aided the enforcement officers to make the raid possible. The companies within The Golf Group include Acushnet, the parent company of Titleist, Footjoy and Scotty Cameron; Callaway-Odyssey; Srixon, XXIO and Cleveland Golf; PING; PXG; and TaylorMade and Adams Golf. The summer raids resulted in the seizure of over 120,000 products, as well as 15 suspects detained and arrested.[2] Since its formation in 2004, The Golf Group has lent a hand in shutting down more than 1,500 websites and seizing over 2 million golf products.[3] Enforcement by officers involve raids in China mostly, but manufacturing is moving to southeast Asian countries as well.[4] Around 90% of counterfeit clubs that are created are made in China.[5]
The scope of the issue is quite large within the industry. The Golf Group reports that an estimated 2 million counterfeit golf clubs are produced every year, but the issue is more than just clubs, it extends to balls, bags, and other golfing equipment.[6] The engineering of legitimate golf equipment is quite advanced, so it is up to counterfeiters to sell products that can deceive the consumer until they have paid.[7] This is most easily done online. As previously mentioned, COVID-19 has increased the amount of online shopping due to safety concerns.[8] A spokesperson for The Golf Group, Jason Rocker, expressed in an interview for GolfWRX that "99 percent of counterfeit clubs are sold via the internet".[9]
There are two routes that counterfeiters will take while counterfeiting golf equipment: creating cheaper and very obvious fakes and creating more realistic fakes that the average consumer would likely be unable to identify as counterfeit.[10] In the past, the pricing of counterfeit equipment has been as low as 50% of the original price, but consumers have realized that prices that low are indications of counterfeit.[11] Counterfeiters have adapted to price their products just enough under retail price to draw a consumer in, but not so much that it is a red flag.[12
Not only will a counterfeiter swindle money from consumers, their counterfeit products also have real safety concerns. Counterfeiters create products with no quality control nor manufacturing constraints.[13] This lack of regulation causes equipment to break more easily which is a real concern when the average swing of a club is around 100 mph.[14] The inferior materials that are used create a heavier head which is even more dangerous if heads detach mid-swing due to poor construction.[15] Counterfeit golf balls and clubs exacerbate the existing issue of golfing injuries such as shafts shattering, golf balls flying unpredictably, and club heads detaching mid-swing.[16] Along with these physical concerns, counterfeiting has been connected to organized crime groups as supplementary income as well as a money laundering tactic.[17]
U.S. Golf Manufacturers Anti-Counterfeiting Working Group
What is being done to stop the counterfeiting of golf equipment? The Golf Group is at the forefront of combating counterfeits in the industry. Although the companies in the Golf Group are competitors, they recognize counterfeiting as an issue that must be addressed collectively. The Golf Group's mission is to educate and enforce–as seen with their enforcement efforts against counterfeits in partnership with law enforcement world-wide.[18] They are also dedicated to educating golf consumers so that they can actively choose to avoid counterfeit purchases, which will reduce the market for counterfeit golf equipment.[19] If consumers do not do their part in stopping counterfeit, the issue becomes counterfeit "whack-a-mole" for enforcement groups and IP rights holders.[20]
Legal Issues
Counterfeit golf equipment implicates two separate intellectual property legal issues: patent infringement and trademark infringement. Counterfeiting is a trademark issue that arises when bad actors want to defraud consumers by offering poorly made copies of products, such as golf clubs, and use a brand's trademark, logo or name in association with the fake. On the other hand, knock-off products, which are not using a brand's trademark necessarily, copy the brand's functional shape, design, or technology that is protected by a patent.[21] Brand owners and inventors are able to obtain legal recourse for infringement through the registration of intellectual property with the USPTO.[22]
Manufacturers are able to patent new technologies and designs for clubs, golf balls, and other equipment, which grants temporary control of the invention.[23] During this period, others are prohibited from making, using, distributing, importing, or selling the patented technology without the patent owner's consent.[24]
Trademarks are logos, brand names, and slogans that help consumers identify the source of a particular product.[25] Brand owners should always consider registering their trademarks with the U.S. Patent and Trademark Office to ensure maximum protection, including the exclusive right to use the mark in commerce.[26] Registration also grants the ability to obtain uncontested status after five years of use, meaning the trademark cannot be cancelled so long as the owner adheres to the renewal process.[27]
In 2003, a federal judge ruled in favor of TaylorMade after defendant E-Golf Investments offered for sale reconditioned golf clubs with TaylorMade heads, but affixed to non-genuine shafts.[28] The court reasoned that the "unauthorized use of an original trademark can qualify as counterfeiting."[29] The court also noted that products may not be fully genuine unless "manufactured and distributed under quality controls established by the trademark owner."[30] Ultimately, the court held that TaylorMade sufficiently proved that consumers would likely associate the inferior quality of the products with the TaylorMade brand since the heads of the clubs bore the TaylorMade mark.[31] Thus, a finding of trademark infringement was proper as a matter of law.[32]
Brand owners should remain vigilant and aware of all aspects of the supply chain and periodically look for instances of patent and trademark infringement in conjunction with their products. By consulting with legal counsel, brand owners are able to use state and federal legislation to remedy the losses caused by counterfeiting.
Recent History of Golf Industry Economic Losses Caused by Counterfeiting
Counterfeiting has been an issue in the golf industry as recent as 2014, when the industry generated $84 billion a year in the US economy, raised nearly $4 billion in charitable donations, and grew participation in the sport by 30.1 million patrons.[33] Interest in the sport has continued to grow over a short period of time, with participation increasing by 33.5 million in 2018.[34] The increased participation rates can explain how total golf club and ball sales in the United States was $2.3 billion in 2019.[35]
When we consider how much the golf industry has grown over the last few years, we should also consider how the success of an industry or company may attract risk. The risk of having a good product in any market is counterfeiting. For example, Joe Nauman of Acushnet, the owner of Titleist, explained noticing the risk of future financial losses from counterfeiting in the golf industry back in 2014.[36] Nauman described how Titleist has noticed an increase in counterfeit golf club production from how many are confiscated at raids. He emphasized that even the minor counterfeiting operations shows potential for causing significant financial loss to golf club manufacturers.
Nauman said over 10,000 golf club heads were confiscated in a single small operation in China.[37] On average golf clubs cost somewhere between $200 and $400.[38] So even if only one shop is selling 10,000 counterfeit golf clubs, the operation will still cost the golf club manufacturer at least $2 million dollars. If one small counterfeiting operation can cost the golfing industry $2 million dollars, imagine the damage a medium-sized operation or even a handful of small operations could do.
Purchasing directly from manufacturers or official licensed sellers is your safest bet to avoid purchasing counterfeits when shopping online. Be cautious on e-commerce sites as well, many do not verify vendor authenticity and consider the fact a consumer is more likely to purchase a counterfeit online than in person when you do shop online.[39] So remember, if a sale on a new driver looks too good to be true, it probably is.
Other Sports Plagued by Counterfeit
While counterfeit golf equipment is prevalent in the free market, it is not the only sport affected by product counterfeiting. Notably, archery and soccer equipment has also been targeted by counterfeiters, presenting significant risks to professional competitors and private consumers alike.
The Archery Trade Association (ATA) has expressed concern over the finding of "counterfeit bows, arrows, broadheads, sights, rests, and countless other products" entering the marketplace.[40] The ATA has instituted a three tier strategy to combat counterfeits in the archery industry: denial of trade show access to manufacturers known to have participated in counterfeit schemes, increased member education, and strengthened partnership with intellectual property experts to facilitate heightened IP protection strategies.[41] In 2018, Bill Ross, Deputy Director of the National Intellectual Property Rights Coordination Center (IPR Center), addressed manufacturers at the annual ATA Trade Show.[42] Ross encouraged manufacturers to provide online shoppers with the ability to report supposed counterfeits on their individual websites.[43] Cooperation from manufacturers and consumers alike help to align the efforts of the IPR Center, Immigration and Customs, and local law enforcement to be able to tackle the complex issue of product counterfeiting in the archery industry.[44] Safety is a top concern in the archery industry; malfunctioning bows, arrows, broadheads, and releases especially have a potential to cause serious physical injury to users and ethical problems in the scope of hunting and wildlife management.
Soccer is another world-wide industry where counterfeiters lurk, hoping to take advantage of consumers. Many products related to the FIFA World Cup are the targets of counterfeiters. In 2018, customs authorities in Hangzhou, Zhejiang China "seized 300 soccer balls whose design was pirated from that of the match balls for the 2018 FIFA World Cup."[45] Authorities additionally noted the prevalence of counterfeit footwear and trophies during the raids.[46] No matter the sport, counterfeiters constantly target big names and big trends in order to capitalize on consumer demand, while reaping massive profits by bypassing R&D, safety testing, and other costs associated with legitimate business and manufacturing practices.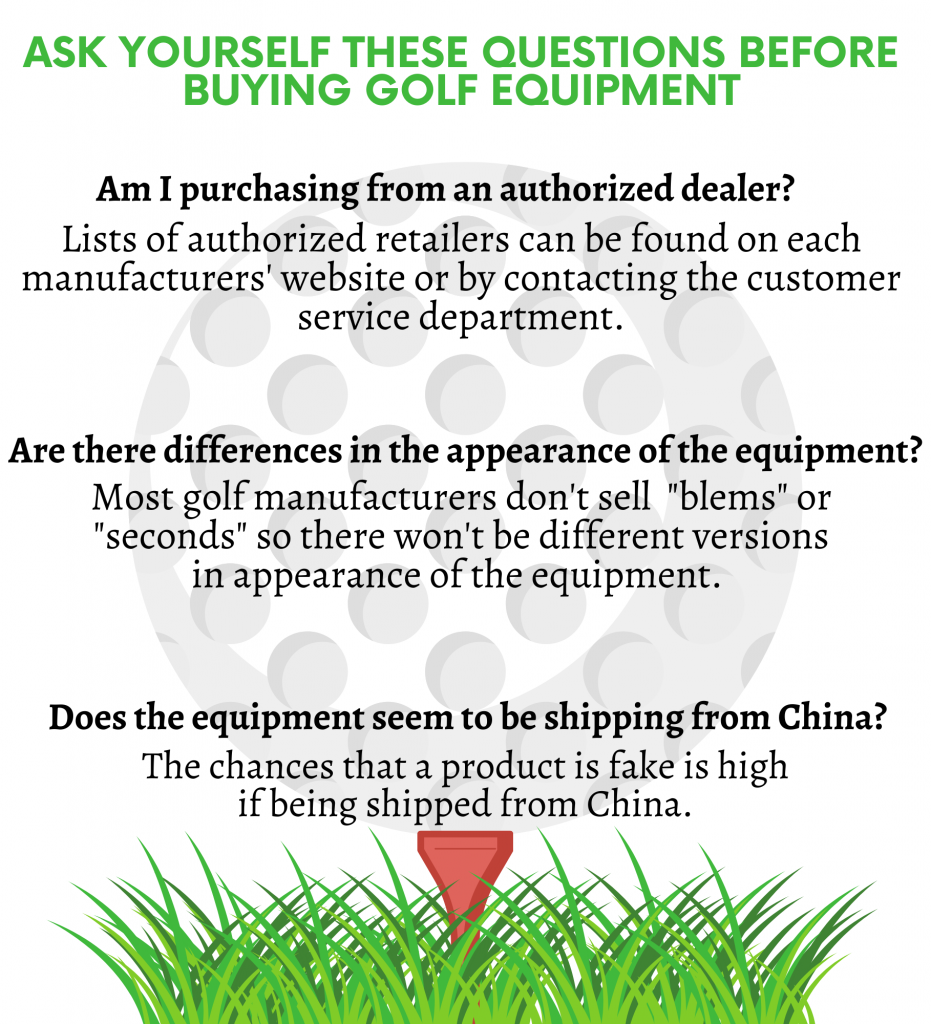 Conclusion
Counterfeit golf equipment is an issue that affects not only your game, but also your safety. Seriously consider where the equipment you purchase is from. Look through the infographic provided and ask yourself the questions posed by The Golf Group before buying golf products. Brand owners are able to do their part in the fight against counterfeiting by enforcing and registering their trademarks and patents in order to legally protect themselves from counterfeiters. The economic impact of counterfeiting on the golfing industry is extensive, and the amount of financial damage caused by even small counterfeiters can be significant. Beyond golf, the sports equipment industry as a whole is greatly affected by trademark and patent infringement. Organizations like The Golf Group, the ATA, and others have dedicated their time and resources to education and enforcement. Understanding your role as a consumer, who is educated and actively chooses not to purchase counterfeit, is the one of the best and most effective ways to stop counterfeiters. As people stop buying counterfeit products, the smaller the market becomes for counterfeiters. Before you start working on your drive this season, make sure to do your part in speaking out against counterfeit equipment. After all, the lack of quality and the likely safety risks associated with counterfeit products are never worth saving a few bucks. When it comes to your safety, and that of those around you, you are never guaranteed a mulligan.
---
[1] Camela Thompson, The Risky Business of Counterfeit Golf Clubs, About Golf (Jan. 11, 2021), https://www.aboutgolf.com/post/the-risky-business-of-counterfeit-clubs.
[2] Id.
[3] Golf Anti-Counterfeit Group Announces Largest Ever Raid Against Online Counterfeit Golf Product Sellers in China, Keep Golf Real (Aug. 19, 2020), https://www.keepgolfreal.com/news/2018/10/15/golf-anti-counterfeiting-group-announces-largest-single-raid-in-5-years-kdfpl-pn8m2.
[4] Sean Fairholm, Counterfeit: Equipment an Authentic Problem, Global Golf Post (Jan. 31, 2020), https://www.globalgolfpost.com/featured/counterfeit-equipment-an-authentic-problem/.
[5] Frequently Asked Questions, Keep Golf Real, https://www.keepgolfreal.com/faq (last visited Apr. 16, 2021).
[6] About Keep Golf Real, Keep Golf Real, https://www.keepgolfreal.com/about (last visited Apr. 16, 2021).
[7] Fairholm, supra note 5.
[8] Jay Kennedy, Attention Consumers: You Are The Key To Staying Safe Online, Forbes (Jan. 31, 2021),
[9] Ben Alberstadt, Golf Club Counterfeiting: Its Scope and Dangers, Golf WRX (Feb. 27, 2015), https://www.golfwrx.com/282675/golf-club-counterfeiting-its-scope-and-dangers/.
[10] Fairholm, supra note 5.
[11] Alberstadt, supra note 10.
[12] Id.
[13] Id.
[14] Jaacob Bowden, Average Golf Swing Speed Chart, Swing Man Golf (Sep. 18, 2020), https://swingmangolf.com/average-golf-swing-speed-chart-2/.
[15] Thompson, supra note 1.
[16] Supra note 6.
[17] Jay Kennedy, A-CAPP Center Product Counterfeiting Database: Insights Into Converging Crimes, A-CAPP Paper Series (Jan. 2019),
[18] Supra note 6.
[19] Id.
[20] Id.
[21] See Matthew Bultman, Companies Turn to Design Patents to Fight Overseas Knockoffs, Bloomberg L. (Nov. 16, 2020), https://news.bloomberglaw.com/ip-law/companies-turn-to-design-patents-to-fight-overseas-knockoffs.
[22] See generally Protecting Your Trademark: Enhancing Your Rights Through Federal Registration, USPTO (Feb. 2020), https://www.uspto.gov/sites/default/files/documents/BasicFacts.pdf.
[23] Frequently Asked Questions: Patents, World Intell. Prop. Org., https://www.wipo.int/patents/en/faq_patents.html (last visited Apr. 16, 2021).
[24] Id.
[25] See Trademarks, World Intell. Prop. Org, https://www.wipo.int/trademarks/en/ (last visited Apr. 16, 2021).
[26] Id.
[27] Trademarks: Contested v. Uncontested, EPGD Bus. L. (Aug. 11, 2017), https://www.epgdlaw.com/contested-v-uncontested/.
[28] Taylor Made Golf Co., Inc. v. MJT Consulting Grp., 265 F.Supp.2d 732, 741 (N.D. Texas 2003).
[29] Id. (internal citation omitted).
[30] Id. (internal citation omitted).
[31] Id.
[32] Id. at 744.
[33] NGF's 2019 Golf Industry Report Overview: Participation and Course Supply Data Highlight Annual State-of-Industry Report, National Golf Foundation (April 2019), https://www.thengfq.com/2019/04/ngf-releases-2019-golf-industry-report/.
[34]Id.
[35] David Lange, Golf – Statistics & Facts, Statista (Mar. 21, 2021), https://www.statista.com/topics/1672/golf/#:~:text=In%202019%2C%20total%20golf%20equipment,than%202.3%20billion%20U.S.%20dollars.
[36] In Play: Counterfeiting in the U.S. Part 1, Golf Channel, https://www.golfchannel.com/video/play-counterfeiting-golf-equipment-and-apparel (last visited Apr. 16, 2021).
[37] Id.
[38] Ernie Lo, How Much Do Golf Clubs Cost?, Golf Storage Guide, https://www.golfstorageguide.com/how-much-do-golf-clubs-cost/#:~:text=The%20average%20cost%20of%20golf,for%20a%20brand%20new%20driver (last visited Apr. 23, 2021).
[39] Kari Kammel et al., Responsibility for the Sale of Trademark Counterfeits Online: Striking a Balance in Secondary Liability While Protecting Consumers, 49 AIPLA Q.J. (forthcoming June 2021), https://papers.ssrn.com/sol3/papers.cfm?abstract_id=3792224.
[40] Wendy Lang, Combat Counterfeiting, Archery Trade Ass'n, https://archerytrade.org/manufacturers/counterfeiting/ (last visited Apr. 16, 2021).
[41] Id.
[42] Patrick Durkin, Counterfeit Archery Products: Are You Buying Them?, Bowhunting.com (Feb. 14, 2018), https://www.bowhunting.com/blog/2018/02/14/counterfeit-archery-products-buying/.
[43]Id.
[44] See id.
[45] Counterfeit Adidas Soccer Balls Seized in Hangzhou (Apr. 25, 2018), https://www.thestandard.com.hk/breaking-news/section/2/106375/Counterfeit-Adidas-soccer-balls-seized-in-Hangzhou.
[46] ZX, Chinese Customs Tighten Controls of World Cup Counterfeits, XinhuaNet (June 26, 2018), http://www.xinhuanet.com/english/2018-06/26/c_137282066.htm.
2021 Copyright Michigan State University Board of Trustees.
---